---
The wine estate ; for 900 years in the same family.
The Château de Jonquières is historical in the Languedoc!  Ever since the 12th century, it has been continuously passed down through the family, making it without doubt the oldest family wine estate in the region.
We have archives dating back to the 13th century; even then there was talk of suitable grape-growing soil.  The wines received national and international recognition in the 19th century when they were awarded with a silver medal at the Universal Exhibition in 1889.  They can also be found on the "Price List" of a Canadian importer from Toronto – Quetton st Georges in 1870.
François de Cabissole took over the estate in 1975 from his father and uncle; at that time the grapes were taken to the wine cooperative.  As a young boy he used to take part in grape-picking and wine-making in the château's cellars with his grandmother; he was therefore determined to revive this activity within the château's walls.  Together with his wife Isabelle, they renovated the winery and started making their own wine in 1992: they were one of the first winegrowers to believe in the potential of their terroir, now listed AOC Terrasses du Larzac.
In 2014, Charlotte and Clément de Béarn (their daughter and son-in-law) took over the vineyard and winemaking.  With nearly 8 hectares of organic farmed vineyards, they currently produce around 30 000 bottles of red, white and rosé.   A percentage of their wines are distributed all over France within the traditional restaurant and cellars network, others are exported and the rest are direct sales.
Vineyards and wines, from Organic Farming
The soil has always been laboured with respect – ploughed between the vines in lines.  The vines undergo short pruning, any necessary work in the spring and are nurtured all year round.  Harvesting is manual, with careful sorting.  Each parcel is attended to according to its age and variety.
The red grapes we grow are Carignan, Cinsault, Syrah, Grenache and Mourvèdre, all of which are particularly well-adapted to a Mediterranean climate.
The Carignan parcel, planted by Charlotte's great-grandmother 80 years ago, has given exceptional results.
Our white wines are made up of Chenin blanc and Grenache blanc.  They were planted about 30 years ago on an experimental basis – the Chenin adds a certain freshness and finesse to our wines.
We elaborated our wines in a semi-underground cellar.  Whilst traditional techniques are important, our priority is a more personal approach to the terroir itself and the work required on its vines.  As a result, we use natural yeasts, and we accord particular attention to temperature control before, during and after fermentation, work on the must (stirring and some cap-punching) and gentle pressing.
The grapes are vinified separately according to the different varieties and are assembled in December.  The Lansade cuvées are matured in tanks and the Baronnies are matured in 500 to 700 litres oak barrels at the beginning of the year for 12 to 18 months.

The AOC Terrasses du Larzac Terroir
In the heart of the AOC Terrasses du Larzac, the Château de Jonquière's vineyards spread out over 8 hectares.  Nestled up against the foothills of the Larzac, 40km west of Montpellier, cool winds sweep down from the plateau over this marvellous terroir that lies below the symbolic 850m high Mont Baudille.
The grapes are blessed by this exceptionally propitious geographical location; the wide temperature variations from day to night over the summer encourage a slow and progressive growth, culminating in wines that offer freshness and aromatic complexity.

Over 30 generations of winegrowers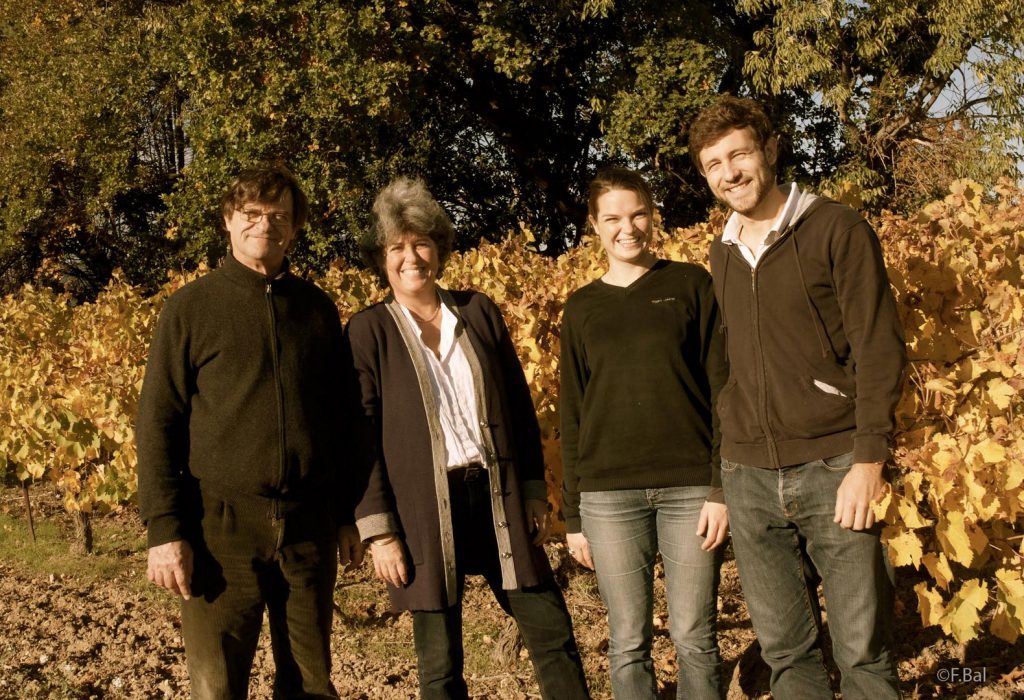 Clément and Charlotte de Béarn,
32nd generation of winegrowers since 2014 –
Charlotte and Clément arrived on the scene in 2012, and took their first steps in the vinification process during the 2012 vintage.
They spent 2013 training in viticulture and oenology in Pézénas.  Then in January 2014 they set themselves up as winegrowers.  The adventure could now begin, or to be more precise, continue!
Charlotte :
"After passing my baccalauréat, I achieved a double degree in Economics and English, and then went on to Reims Business School to do a Master's.  Already attracted to the world of winegrowing, I chose Reims because they gave lessons on that theme.  At the end of my degree, I did an internship in a trading company.  During my university career, I floated between the fields of Human Resources, Communication and Wine… But during those years, I would also take part in various activities on the estate; working in the vineyards in the spring or grape-picking, working in the office, bottling and sales – even from afar!  And so the whole idea started to blossom …"

Clément :
"I went into business studies, and passed a "BTS" then a master's in small or medium sized businesses.  I have always been passionate about cuisine and entrepreneurship, so in 2010 I set off to Australia to work in a restaurant.  Back in France, I was undecided whether to carry on with a 2nd master's in hotel management or go for a cooking course.  In the end, we pursued our project so I abandoned both options and threw myself heart and soul into Jonquières.  I also come from a winegrowing family; both my grandfathers were winegrowers in Montpellier and Béziers…"
François and Isabelle de Cabissole, 31st generation of winegrowers from 1974 to 2014,
François took over the business from his uncle in the 1970s; he restructured and replanted the vineyard that was part of the wine cooperative at the time.  In 1982, a young student named Isabelle came to do grape-picking at the château and ended up joining him full-time in 1983….  Together they revived the private winery with the 1992 harvest and placed all their drive and conviction into the quality wines of the Languedoc.
François and Isabelle particularly appreciated the "freedom" to be able to work in their vineyards at their own rhythm and make the wine they loved.  The couple dreamt to pass down their heritage.  "May these stones remain, so all that we have undertaken up until now shall continue and prevail".   We can safely say that it has worked.